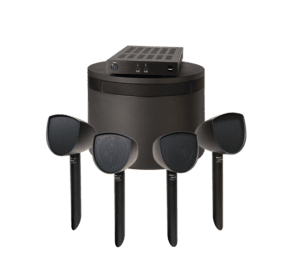 We started Adept Audio because we knew the latest music and movie streaming services were placing unprecedented demands on audio systems—and that budgets for those systems aren't getting any bigger. The solution? Rewrite the rules of the architectural speaker business. Deliver better sound, easier installation and more affordable prices.
What gives Adept Audio the edge is our engineering team, led some of the pioneers of in-wall speakers. They've been building, experimenting, designing, and refining architectural speakers for decades, so they have tweaks and techniques that your average speaker engineer would never learn. They've used everything they know to create a speaker line that installers and their clients will enjoy for years to come.
Security and A/V Professionals are quickly realizing that Adept Audio speakers deliver.  Clients love the rich, accurate, crisp sounds that only a high-quality speaker can deliver.  The price points allow for wide dealer margins and patented installation features that keep costs low and give Adept Audio incredibly high value.

The Adept Audio Difference
With performance you'll love, service you'll love, and prices you'll love, Adept Audio delivers everything you ever wanted from an architectural speaker company. 
Sound Quality
With voicing by the world's most experienced architectural speaker designers, combined with the latest materials and science, Adept Audio speakers sound natural, spacious and powerful … everywhere in the room!
Durability
Decades of audio design and manufacturing taught us what it takes to build architectural speakers that sound great for years to come—so your clients are happy every time play them.
Ease of Installation
Our In the Ring mounting system lets you install ceiling speakers in seconds—no screwdriver needed! Just pop in the ring, pull the mounting brackets down, and twist the speaker into place.