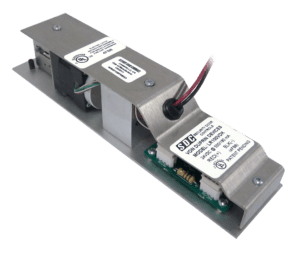 SDC is recognized for the developing the first electrified lockets approved for stairwell door applications. Today, SDC HiTower®, Selectric® and Electra® premium grade electrified mortise and cylindrical locks are installed in thousand of buildings dominating skylines worldwide.
SDC has earned twelve SIA New Product Achievement and Security Industry Finest Awards since 1997. In addition, SDC has received numerous SIA New Product Showcase certificates of recognition for Commitment to Innovation and Excellence in New Product Development.

SECURITY DOOR CONTROLS develops, manufactures, and markets mechanical door locks and exit devices, access controls, electronic locking devices, and security systems worldwide. Arthur V. Geringer, D.A.H.C., with commitment of his personal funds, founded the company in 1972. Assembly of SDC products takes place in the United States and is available worldwide.
SDC brand products are channeled through security products wholesale distributors, systems integrators, contract, and wholesale door hardware distributors. Additionally, SDC designs and manufactures products for several Original Equipment Manufacturers (OEMs), who sell SDC products under their own label. Sales are conducted through over 40 sales offices to service accounts.
A leader in the innovation of products within the electronic security and architectural openings industries, SDC holds scores of patents and trademarks. SDC's locking systems can be found in virtually any application where access control of a door is required; for example, industrial, commercial, retail facilities, technology centers, high-rise buildings, nuclear power plants, laboratories, museums, art galleries, libraries, schools and universities, airports and transportation facilities, government centers and military bases throughout the world.
The company's products and systems can be found in thousands of facilities, such as High-rise structures throughout most major U.S. cities from Los Angeles to New York; Duke Power Nuclear plants, North Carolina; J. Paul Getty Museum, Los Angeles; Museum of Modern Art, New York; Exxon, U.S.A; Bank of America facilities, U.S.A.; Chase Manhattan Bank, U.S.A; and many airports including JFK International, O'Hare, Chicago; Dallas/Fort Worth, Texas; Edwards Air Force Base, California; Chek Lap KOK Airport, Hong Kong; Kuala Lumpur International Airport, Malaysia; and Saudi Arabia's two largest airports located in Riyadh and Jeddah.